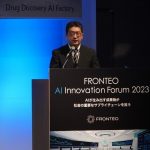 Data-driven Drug Discovery Initiatives at Mitsubishi Tanabe Pharma Corporation"
November 16, 2023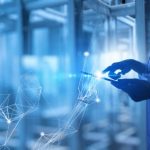 What is FRONTEO's AI?
November 20, 2023
[Basic Information] What is AI Drug Discovery?
AI drug discovery is an attempt to improve efficiency by using AI technology in the drug discovery process. This section introduces basic knowledge about AI drug discovery. Please check out the advantages and disadvantages, and what kind of issues can be solved if AI is introduced.
1.What Different FRONTEO's AI 
What is AI Drug Discovery?
AI drug discovery is a drug discovery method that utilize AI (artificial intelligence) in drug research and development to perform advanced data analysis and inference, bringing benefits such as shorter development time, lower costs, and reducing workload of researchers.
To begin with, drug discovery refers to the development of new drugs. Specifically, it is the process of creating a new drug that does not yet exist on the market for the purpose of treating or preventing a disease or alleviating symptoms. The goal of drug discovery is to find safe and effective drugs.
In recent drug discovery, AI has been applied not only to molecular structure correlation and case reports processing, but also in the target discovery and lead compound discovery and optimization phases . Although, some companies have already put it to practical use and achieved results, some point out that AI drug discovery is still in the early stages of development. 
Why is AI Drug Discovery Attracting Attention?
AI drug discovery is attracting attention because it is expected to eliminate problems in the traditional drug discovery process and improve the success rate. The success rate of new drug development has been declining, especially in recent years as more and more efforts are directed toward more challenging diseases. The inherent inefficiencies of the drug discovery process are also a problem: screening many compounds requires large numbers of experiments, a difficult task that relies on the experience of researchers. AI drug discovery is attracting attention because of the ability of AI to solve these problems.
AI's ability to process large amounts of data quickly and accurately is especially powerful in target selection and compound screening. It can precisely narrow down the combinations that are most likely to be effective, thereby improving success rates and reducing the number of experiments required. This is expected to shorten development time and reduce costs.
In addition, other processes may also be streamlined and automated through the active use of AI. For example, AI image analysis could be used to evaluate drug efficacy and safety from pathology images, or natural language processing could be applied to quickly search for articles. Furthermore, the combination of AI and robotics technology could lead to increased efficiency by automating experiments. Due to these factors, AI drug discovery is becoming an important technology for pharmaceutical companies.
Drug Development Challenges
The increasing duration and cost of new drug development is causing an innovation gap in the pharmaceutical industry. Advances in medical science are shifting drug discovery targets to more complex and unexplained diseases, while tighter drug regulations, pressure to lower drug prices, and competition from generics also pose challenges.
Target gene discovery is also difficult, and the failure rate at the small clinical trial stage is known to be high. This is mainly due to target selection relying on animal experiments and starting drug discovery with insufficient stratification of patients to be treated. AI-based screening and simulation are expected to solve these problems. AI drug discovery is attracting attention as a solution to these challenges.
Advantages of AI Drug Discovery
The main advantages of utilizing and introducing AI in drug discovery include streamlining the search for information and reducing the workload of researchers, expected improvement in the success rate and reliability of drug discovery, and encountering hints of new discoveries and hypotheses that do not exist from a human perspective.
Of particular note is being able to encounter new discoveries and hints for hypotheses. Until now, new drug development has been dependent on the knowledge of researchers, for better or worse, and the only way to develop a new drug was to find the seed of the drug from the articles and research data read. In addition, with the sheer volume of information available today makes it difficult to even locate papers that are relevant to the topic.
AI can collect all kinds of information in a comprehensive and multifaceted manner, independent of human knowledge, and may indicate new possibilities that have not been noticed from a human perspective. The ability to create unknown information from known information, so to speak, is another major merit of AI.
Demerits of AI Drug Discovery
While AI drug discovery has various advantages, it is necessary to understand the disadvantages and cautions in advance in order to successfully utilize and implement it.
For example, Is the data eligible for training? AI is not a magic wand that makes anything possible, it requires large amounts of data on which to learn. However, the data prepared by medical institutions is based on the premise of treatment, and in many cases it is not formatted with an eye toward AI application. Advance preparation, such as unifying formats, is important.
Even the best AI will be meaningless without AI personnel who can master it and data scientists and biologists who can correctly interpret the analysis results. Securing such human resources is another point to consider before implementing AI.
Other concerns, such as How long will it take for maintenance and upkeep? and other concerns can be addressed at an early stage to ensure smooth utilization and implementation.
How AI Can Help Solve Pharmaceutical Industry Challenges?
The pharmaceutical industry faces major challenges in new drug development. The main issues are that takes more than 10 years for R&D, the probability of success declines year by year, and R&D costs skyrocket.
The implementation of AI into the drug discovery process can lead to solutions to various problems, such as shortening the time required to search for papers, enabling highly reliable target discovery, and efficiently creating and optimizing lead compounds.
Status of AI Application in the Pharmaceutical Industry
AI drug discovery uses artificial intelligence to support the pharmaceutical R&D process. AI drug discovery is attracting a great deal of attention as one of the solutions to the challenges in the pharmaceutical industry, and there is a growing trend to utilize and implement AI in various processes.
For example, in target search and selection, which is said to take 10 years, some companies provide AI services that extract information that fits the research theme from a vast amount of paper information or suggest highly novel targets through comprehensive and multifaceted evaluation and verification.
Other AI-based measures are also being taken in lead compound creation and optimization, clinical trials, and other areas. Such efforts by pharmaceutical companies and AI venture firms working together are expected to accelerate in the future.
Drug Discovery Flow and Application of AI
Drug discovery involves a series of steps from basic research to application for approval, and the low success rate and inefficiencies of drug discovery are among the issues that need to be addressed. AI drug discovery is attracting attention because of the potential for AI to solve problems in the drug discovery process.
AI can analyze large amounts of data at high speeds, making screening and development more efficient. It also reduces the number of experiments, thus contributing to cost reduction and shorter timeframes.